PL
Zielone koktajle to prawdziwy hit wśród fanów zdrowego odżywiania.
Nic dziwnego, napoje te kumulują w sobie wszystko, co najlepsze dla zdrowego funkcjonowanie organizmu.
Modę na zielone koktajle
wprowadziła
"Green Smoothie Revolution"
(pol.
"Zielony eliksir życia"
- znajdziecie tu ponad
200 przepisów
na te superzdrowe napoje!)
przedstawiła tajniki i sekret oddziaływania zielonych koktajli.
Okazuje się, że nie bez znaczenia jest sam zabieg miksowania!
Zalety zielonych koktajli:
- są niezwykle
odżywcze
: to duża dawka
chlorofilu
, enzymów, żelaza, magnezu, fosforu, potasu, jak również prowitaminy A, witaminy z grupy B oraz witamin C, E i K oraz białka
- są
lekkostrawne
(dzięki blendowaniu wszystkie składniki odżywcze dzielą się na małe porcje
łatwo przyswajalne
przez organizm)
- zawierają mnóstwo
błonnika
, mogą stanowić samodzielny posiłek
Wprowadzając zielone koktajle do codziennej diety, warto pamiętać o kilku zasadach:

- optymalne proporcje:

60% dojrzałych owoców + 40%

zielonych warzyw




- łącz

warzywa zielonolistne

(

szpinak

, jarmuż, pietruszka, sałata, brokuł,

szczaw

, kapusta pekińska, rukola) z owocami i wodą




- z

owoców

wybieraj te o

kremowej konsystencji

,

które sprawią, że koktajl będzie aksamitny: awokado, banana,

truskawki


- dobierając składniki kieruj się nie tylko swoimi upodobaniami smakowymi, ale przede wszystkim

sezonowością




- do koktajli dodawaj również

ziarna

, jak np. siemię lniane oraz otręby lub płatki owsiane




-

jabłka

sprawiają, że koktajl się pieni, więc nie warto przesadzać z ich ilością




-

przepisy

na zielone koktajle moją zawierać inne

warzywa zielone

: ogórka, selera naciowego i kiełki




- smak zielonego koktajlu doprawiaj miodem, cytryną, imbirem, cynamonem
ES
Los batidos verdes son un éxito entre los fans de la alimentación saludable.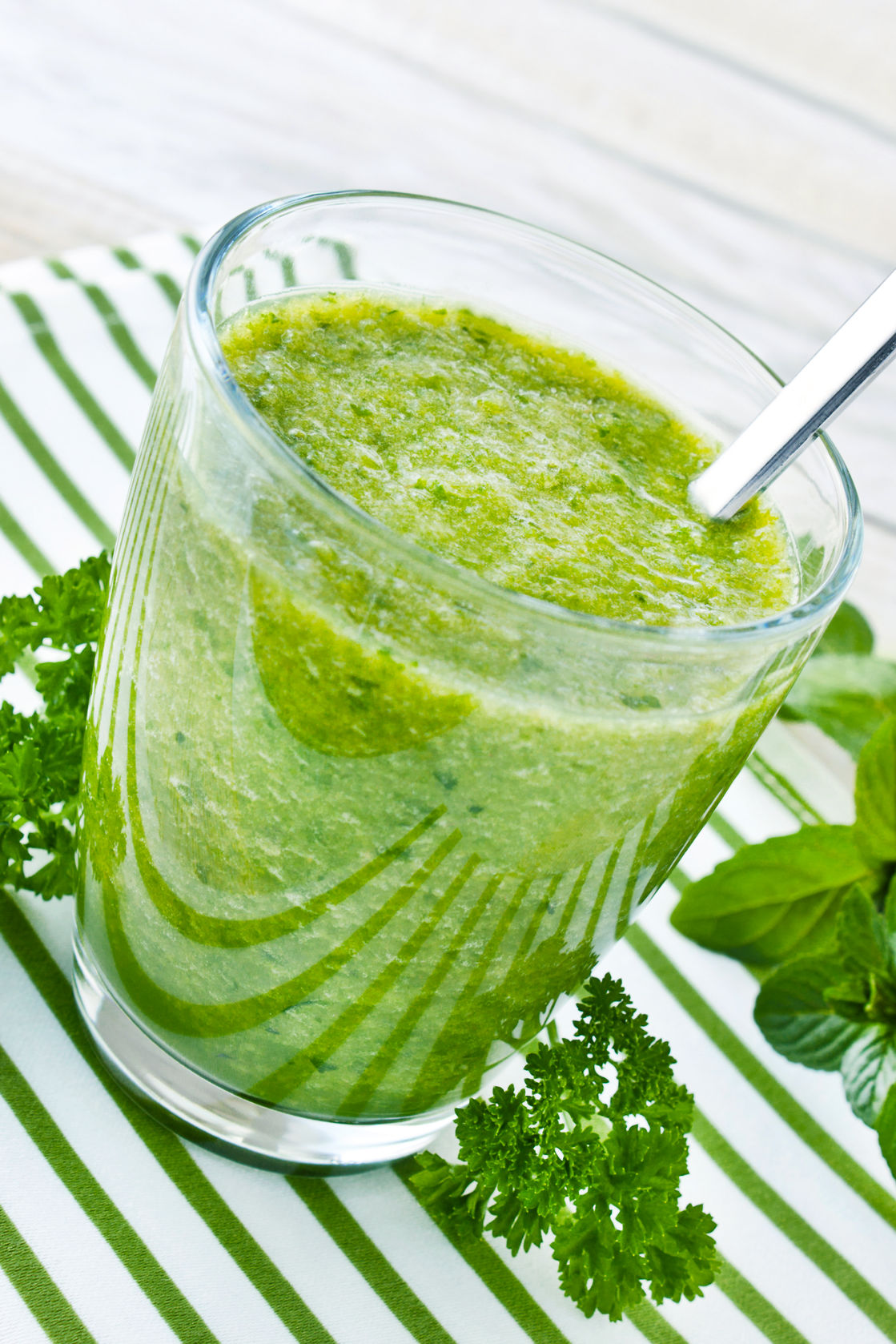 No es sorprendente que estas bebidas se acumulan en sí mismo todo lo mejor para el funcionamiento saludable del cuerpo.
Moda para batidos verdes introducidas
"Green Smoothie Revolution"
(es. "REVOLUCIÓNDE BATIDO VERDE." - encontrarás aquí más de
200 recetas

para preparar estas bebidas supersanas!)
secretos presentados y la influencia secreta de cócteles verdes.
Resulta que hay operaciones significativas de mezcla en sí!
Ventajas de cócteles verdes:
- Son extremadamente

nutritivos

: una gran dosis de

clorofila

, enzimas, hierro, magnesio, fósforo, potasio, así como provitamina A, vitamina B y vitamina C, E y K, y proteínas
- Son

fáciles de digerir

(gracias a mezclar todos los nutrientes se dividen en pequeñas porciones

fácilmente absorbidas

por nuestro organismo)
- Contienen una gran cantidad de

fibra

, puede ser una comida independiente
si incluyes los batidos verdes en tu dieta diaria,
debes recordar algunas reglas:
- Proporciones óptimas:

el 60% de la fruta + 40% de vegetales verdes maduras
- Conectar vegetales

de hoja verde

(espinacas, col rizada, el perejil, la lechuga, el brócoli, la acedera, repollo, rúcula) con fruta y agua
- Elija la fruta, cremosa, por lo que habrá un cóctel de aguacate aterciopelada, plátano, fresas
- Selección de componentes siguen no sólo al gusto individual, pero sobre todo de

temporada
- Añade a los batidos, cereales, como la linaza y salvado o

avena

.
- Las

manzanas

hacen un cóctel espumoso, entonces no exageres con su cantidad
- Recetas de batidos verdes contienen

hortalizas

: pepino, apio y brotes
- El sabor del cóctel verde aderezada con miel, limón, jengibre, canela
ENG
Green smoothies are a hit with fans of healthy eating.
Not surprisingly, these drinks accumulate in itself all the best for the healthy functioning of the body.
Fashion for green smoothies introduced
"Green Smoothie Revolution"
(you will find here more than
200 recipes

for these superhealthy drinks!)
presented secrets and secret influence of green cocktails.
It turns out that there is significant mixing operation itself!
Advantages of green cocktails:
- Are extremely

nutritious

: a large dose of

chlorophyll

, enzymes, iron, magnesium, phosphorus, potassium, as well as provitamin A, vitamin B and vitamin C, E and K, and protein
- They are

easy to digest

(thanks mixted all the nutrients are divided into small portions easily absorbed by the body)
- Contain a lot of

fiber

, can be a stand-alone meal
Introducing green smoothies to your daily diet,
you should remember a few rules:
- Optimal proportions:

60% of ripe fruit + 40% green vegetables
- Connect green leafy vegetables (spinach, kale, parsley, lettuce, broccoli, sorrel, cabbage, arugula) with fruit and water
- Choose the fruit,

creamy

, so that will be a cocktail velvety avocado, banana, strawberries
- Selecting components follow not only your individual taste, but most of all seasonal
- Add to smoothies, grains, such as. Linseed and bran or oatmeal
-

Apples

make a cocktail out of money, so it is not worth to exaggerate their number
- Recipes for green smoothies contain my other

green vegetables

: cucumber, celery and sprouts
- The taste of green cocktail seasoned with honey, lemon, ginger, cinnamon
©TheGrisGirl. All Rights Reserved