PL
Torebeczki, torebki, torby !
Jestem z tych kobiet, która ma na ich punkcie bzika!
Oh to proste, uważam że to najważniejszy dodatek każdej stylizacji.
Na przykład, zwykłe jeansy, zwykła bluzka i
BUM
- HERMES.
Nie wierzycie ?
No to przykłady, spójrzcie na stylizacje wyobrażając je sobie
bez torebki
....
Bolsos, monederos, maletas!
Yo soy de esas mujeres que se obsesionan con ellos!
Oh, eso es fácil, creo que es el suplemento más importante cada estilo.
Por ejemplo, los pantalones vaqueros normales, una blusa sencilla y BOOM - HERMES.
¿No me creen?
Bueno, ejemplos, miran los diseños mí imaginarlo
sin el bolso
....
ENG
Baggies, purses, bags!
I am of those women who is obsessed with them!
Oh that's easy, I think is the most important supplement each styling.
For example, normal jeans, a simple blouse and
BOOM
- HERMES.
Do not believe me?
Well, examples, look at the designs myself imagining it
without the bag
....
Przekonane?
To teraz poruszmy temat kupna
ODPOWIEDNIEJ TOREBKI
.
Tak, jak się okazuje to nie jest takie proste.
Co sezon serwowane są nowe trendy, wielkość, kolor, kształt.
Kiedyś dobierało się kolor pod kolor butów, dziś to jest passe.
Czym Wy się kierujecie przy zakupie?
ES
¿Convencidas?
Y ahora sobre la compra del
BOLSO IDEAL
Así, resulta que no es tan simple.
Cada temporada se nos sirve nuevas tendencias, tamaño, color, forma.
Hace tiempo se elegia el color del bolso bajo el color de los zapatos, hoy es passe.
Y para ti
¿que es lo mas importante en la compra ?
ENG
Convinced?
Ok, now about buying
PERFECT BAG
.
So, as it turns out it's not that simple.
Every season are new trends served, size, color, shape.
Once time selected bag color under the color of shoes, today is passe.
What you aim towards the purchase?
Ułatwię Wam to :)
DOBIERAJCIE TOREBKĘ DO WASZEJ FIGURY!
Optyka! To magia!
Potrafimy oszukać ludzkie oko w bardzo łatwy sposób.
Niewysokie dziewczyny
wkładają
szpilki i
rezygnują
z sukienek za kolano.
Wysokie kobiety
rezygnują
ze szpilek i
wkładają
sukienki maxi.
Dlaczego? Żeby jedno ukryć a drugie uwydatnić.
No właśnie!
ES
Para hacertelo más fácil :)
ELIGE BOLSO ADECUADO PARA TU SILUETA!
Somos capaces de engañar al ojo humano de una manera muy fácil.
Las chicas bajas

ponen

tacones y

se abstengan

de vestidos de la rodilla.
Las mujeres altas

abandonan

los zapatos de tacón alto y

se ponen

vestidos maxi.
¿Por qué? Para ocultar el uno y el otro punto a destacar.
SELECT BAG WITH YOU BODY SHAPE!
We are able to fool the human eye in a very easy way.
Not high girls

put

heels and

refrain

from knee dresses.
High women

drop out

of high heels and

put

on maxi dresses.
Why? To hide the one and the other highlight.
Spójrzmy na torebkowe wpadki :
Mira los errores con bolsos:
KOBIETY O
KOBIECYCH KSZTAŁTACH
POWINNY ZREZYGNOWAĆ Z BARDZO
MAŁYCH TOREBEK
PL Uwielbiam Gosię Baczyńską, jest świetną projektantką, ale spójrzcie na torebkę.
Jakby była większa, Pani Gosia wydawałaby się mniejsza.
ES Adoro a Gosia Baczyńska, es buenisima diseńadorapolaca, pero mirad a su bolso.
Si fuera mas grande, la chica hubiera parecido mas delgada.
ENG I love Gosia Baczyńska, she is a great designer, but look at her bag.
If it been smaller, women could seem slimmer.
#2
DROBNE
KOBIETY POWINNY ZREZYGNOWAĆ Z
WIELKICH
TOREB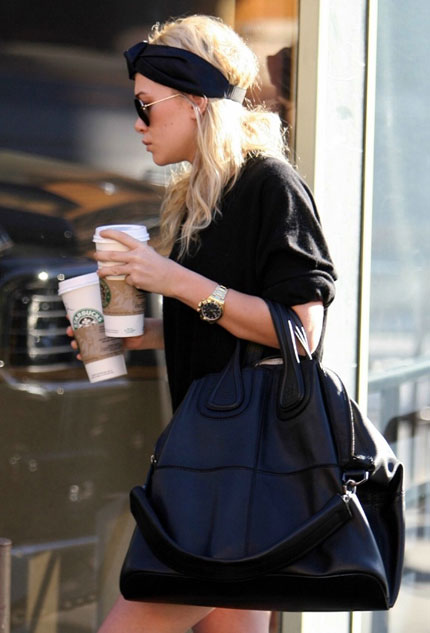 PL Pamiętacie bliźniaczki Olsen z filmów familijnych? Dziś to projektantki i ikony mody,
ale tego trendu raczej powinny się wystrzegać filigranowe panie.
Olsen wygląda na jeszcze drobniejszą niż jest.
ES Os recordais dos gemelas monas Olsen?Hoy son diseńadoras e iconos de la moda
pero esa tendencia no la seguis sobre todo si eres muy delgada.
La Olsen parece aun mas delgada de lo que es.
ENG Do you remember twins from family films? Today are a designer and fashion icon,
but this trend should be avoided rather dainty ladies.
Olsen looks even finer than she is.
1.

JABŁKO / MANZANA / APPLE
2.

KLEPSYDRA / RELOJ DE ARENA / HOUR GLASS
3.

GRUSZKA / PERA / SPOON
4.

PROSTOKĄT / RECTANGULO / STRAIGHT
5.

ROŻEK /
TRIANGULO/
TRIANGLE
PL
Skoro już wiesz jaki masz typ sylwetki zajmijmy się doborem torebki
ES
Como ya sabes que tipo de silueta tienes ahora ocupemonos de elección del bolso ideal
So, now you know your tipe of body shape and we can select your perfect bag
PL
Panie o puszystej figurze powinny szukać dużych, rzucających się w oczy, awangardowych modeli,
ozdobionych dużą ilością wisiorków i aplikacji.
Nadmiar dodatków ma bowiem za zadanie odwrócić uwagę od pełniejszych kształtów. Duża torebka może optycznie pomniejszyć rozmiary. Mała - wręcz przeciwnie! Długie, prostokątne torebki, są idealne
do wysmuklenia rysów twarzy
ES Señoras de la figura esponjosa deben buscar grandes, visible, vanguardistas modelos, decorados con un montón de colgantes y aplicaciones. El exceso de aditivos tiene el objetivo de desviar la atención de las formas más completas. Una bolsa grande puede ampliar ópticamente tamaños. Pequeño - ¡al contrario! , Bolsas rectangulares largos son ideales para adelgazo facial
ENG Lasies of fluffy shape should look for large, conspicuous, avant-garde models, decorated with lots of pendants and applications. Excess additives has the aim to divert attention from the fuller shapes. A large bag can optically zoom sizes. Small - on the contrary! Long, rectangular bags are ideal for facial slim
KLEPSYDRA / RELOJ DE ARENA / HOUR GLASS
PL
Dla kobiet o normalnych, przeciętnych kształtach, idealne są torebki o średnich, bądź dużych wymiarach - w zależności od tego, jaki wygląd chcą ostatecznie osiągnąć. Duża torebka pomaga
nieco wysmuklić sylwetkę
, mała wręcz przeciwnie - może sprawić, że osoba o regularnych kształtach będzie wydawała się bardziej "puszysta" niż jest w rzeczywistości.
Najbardziej uniwersalna jest średnia
- proporcjonalnie dopasowana do ciała - prezentuje ciało, takim jakie jest.
ES Para las mujeres con unas formas normales, medias, bolss ideales son del tamaño mediano o grande - en función de lo que quieren lograr en última instancia de apariencia. Un bols grande ayuda adelgazar una silueta , pequeño, por el contrario - puede hacer una persona con formas regulares parecerá con más curvas, de lo que realmente es.
El más versátil es del tamańo medio - proporcionalmente ajustada al cuerpo - presenta el cuerpo, tal como es.
ENG For women with a normal, average shapes, ideal bas is in medium or large size - depending on what they want to ultimately achieve the appearance. A large bag helps a bit slim silhouette, small, on the contrary - it can make a person with regular shapes will seem more "fluffy" than it actually is. The most versatile is the average - proportionally adjusted to the body - presents the body, such as it is.
PROSTOKĄT / RECTANGULO / STRAIGHT
PL Mała kopertówka podkreśli smukłą sylwetkę, zaś duża torebka stworzy kontrast i uwypukli wątłe kształty. Poleca się także lekko zaokrąglony fason, ponieważ zbyt długie, prostokątne oraz kwadratowe mogą sprawić, że szczupła sylwetka nabierze kanciastych kształtów.
ES Un pequeño bolso esbelta un cuerpo delgado, y una bolsa grande va a crear el contraste subrayando las formas frágilesde tu cuerpo. También se recomienda los bolsos ligeramente redondeados, porque , rectangular y cuadrado pueden hacer una silueta demasiado delgada y el cuerpo se convierte en formas angulares.
ENG A small clutch emphasize slender figure, and a large bag to create contrast and underscoring the fragile shapes. Stylists also recommend the slightly rounded fashion, because for too long, rectangular, and square can make a slim silhouette become angular shapes.
SO NOW YOU CAN GO SHOPPING :)
©TheGrisGirl. All Rights Reserved.