kataloński architekt i inżynier secesyjny słynący z wyjątkowych projektów
Architektury Gaudiego w Barcelonie nie sposób
porównać do niczego innego na świecie.
Jedni widzą w niej dziwactwa i kicz, inni - skończone cuda
Jego rude włosy wyróżniały go spośród ciemnowłosych Katalończyków
nie mniej niż hipnotyzujące spojrzenie błękitnych oczu i zachowanie,
o którym w Barcelonie krążyły legendy.
Pewny siebie, bywał arogancki i butny.
Bezkompromisowy, przywiązany do swoich wizji, rzadko szedł na ustępstwa.
Znający swoją wartość, walczył o każdą pesetę ze swoimi zleceniodawcami.
Za młodu elegancki młody bourgeois, romantyczny wizjoner;
potem wyniszczony dietą i chorobami zapracowany idealista;
w końcu przypominający żebraka, wychudzony, zdziwaczały staruszek. Zawsze żyjący architekturą i dla architektury.
Uwielbiany i czczony przez jednych, znienawidzony przez innych – już w dniu swojej śmierci okrzyknięty został geniuszem przez te same gazety, które jeszcze niedawno zamieszczały jego karykatury: niezrozumianego, trochę szalonego, ekscentrycznego.
Styl Gaudiego był bardzo rzeźbiarski oraz secesyjny. Wykorzystywał łuki paraboliczne, fantastyczne formy i zawiłe desenie oraz organiczne kształty podpatrywane w przyrodzie. Nawiązywał niekiedy do płynności podwodnego świata. Dziś jest uważany za prekursora architektury biomorficznej.
Arquitecto catalán Art Nouveau y el ingeniero famoso por sus proyectos singulares
Arquitectura de Gaudí en Barcelona es imposible
para comparar con cualquier otra cosa en el mundo.
Algunos lo ven como rarezas y kitsch, otros - milagros terminados
Su pelo rojo le distinguía entre los catalánes morenos
Su mirada azul hipnótica y el comportamiento,
que en Barcelona era legendaria.
Confiado, frecuentó arrogante y altanero.
Sin concesiones, que se adjunta a su visión, rara vez se fue a hacer concesiones.
Conociendo su valor, luchó por cada peseta con sus directores.
Como un hombre joven era elegante joven burguesa,
visionario romántico; entonces devastada dieta y enfermedades ocupado idealista;
al final se asemeja a un mendigo, flaco, viejo excéntrico.
Siempre vivió con la arquitectura y para la arquitectura.
Adorado por unos, odiado por otros - ya fue aclamado
( en el día de su muerte )
como un genio por los mismos periódicos que recientemente
ponian sus caricaturas: incomprendidos, un poco locos, excéntricos.
El estilo de Gaudí era muy escultural y Art Nouveau.
Aprovechó de arcos parabólicos, formas fantásticas
y los patrones intrincados y formas orgánicas espiados en la naturaleza.
A veces aludido a la liquidez del mundo submarino.
Hoy en día se considera un precursor de la arquitectura biomórfica.
Catalan Art Nouveau architect and engineer famous for its unique projects
Gaudi architecture in Barcelona there is no way
compared to anything else in the world.
Some see it as quirks and kitsch, others - finished miracles
His red hair distinguished him from the dark-Catalan
not less than hypnotic blue gaze and behavior,
which in Barcelona was legendary.
Confident, he frequented arrogant and supercilious.
Uncompromising, attached to his vision, rarely went to make concessions.
Know their worth, he fought for every peseta with their principals.
As a young man elegant young bourgeois, romantic visionary; then devastated diet and diseases busy idealist; in the end resembling a beggar, gaunt, eccentric old man. Always living architecture and architecture.
Worshipped by some, hated by others - already on the day of his death was hailed as a genius by the same newspapers that have recently zamieszczały his caricatures: misunderstood, a little crazy, eccentric.
Gaudi's style was very sculptural and Art Nouveau. Take advantage of parabolic arches, fantastic forms and intricate patterns and organic shapes spied in nature. Sometimes alluded to the liquidity of the underwater world. Today it is considered a precursor of biomorphic architecture.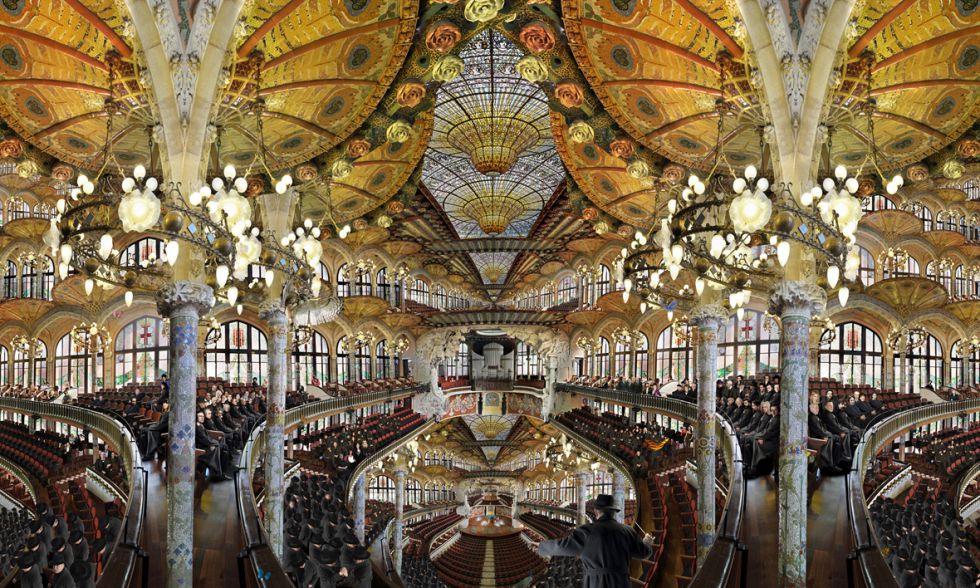 ©TheGrisGirl. All Rights Reserved